Aboriginal Art in the Sixties: Fine and Popular
Museums, Mentors and Merchants
The path of development of many BC Aboriginal artists provides evidence of their mentorship by important Euro-Canadian artists and institutions. Francis Baptiste and Judith Morgan were mentored by day and residential school teachers who saw 'art' as a means of education, and arranged for the public exhibitions of children's work in such places as the Vancouver Art Gallery. Baptiste and Morgan had become aware of their works' public value before enrolling in art schools. Morgan was taught to paint by Gordon Sinclair, and supported by Lawren Harris in the exhibition of her work at the National Gallery in Ottawa. Harris also was instrumental in encouraging George Clutesi to paint on large canvases. When Clutesi had his first exhibition at the Provincial Museum in Victoria, the Acting Director Dr. Carl introduced him to Emily Carr. Clutesi began painting in oils, and by 1962 had completed 50 canvases, seven of which were acquired in 1947 by the University of British Columbia, the first major sale of his work.
The two-day meeting of the B.C. Indian Arts and Welfare Association at UBC in 1948, organized by Alice Ravenhill, was a watershed event for the public recognition of "Indian art."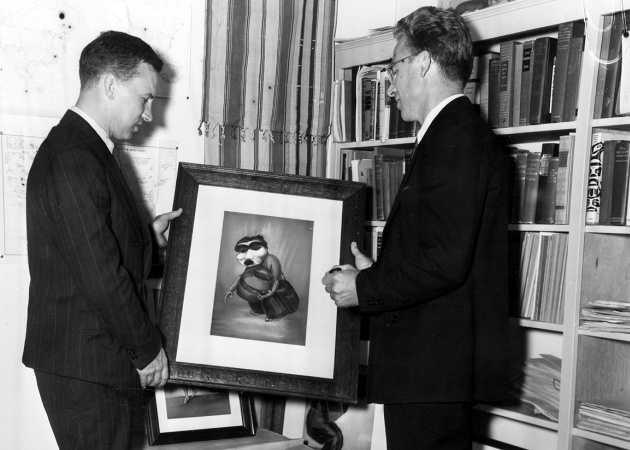 Ellen Neel held her first exhibition at UBC under the sponsorship of BCIAWS. As a result of this exhibition, the University President bought Neel's first "polished" totem pole. Soon after, the Neels carved a pole as gift for the Alma Mater Society. UBC was also a source of support for other Native artists in the form of totem pole restoration and replication projects such as those conducted at Totem Park, for which Bill Reid and Doug Cranmer were commissioned. Because creating historic and intellectual value for art works also create markets, museums became merchants and mentors. Private dealers such as Gyula Mayer would "discover" emerging artists such as Henry Speck, collecting and promoting his work. In 1964, "A World Premiere" opening of Speck's work was staged. By 1967, Speck had become well known and 245 of his works were bought by the Glenbow Museum.
The experience with galleries, dealers and museums led some aboriginal artists to begin to market their own and other Aboriginal artists work themselves. Contemporary painter, Paul Yuxweluptun says "Henry Speck broke the form line. He drew hair over the line, and made what was a stylized two-dimensional image into a pictorially three-dimensional one. I remember seeing his small catalogue from 1964 in my father's library: it was new, on paper and in colour. He used new inks, new materials – it was modern. Colour was his signature; he had a certain style that other artists would try to copy. His influence on me was colour, because back then there was more black and white."
1927
The National Gallery of Canada presents a landmark exhibition, Canadian West Coast Art Native and Modern, which introduces Emily Carr to the Canadian art world along with other Canadian artists, after which she gains national recognition. Carr creates an "Indian" design for the catalogue cover, and signs it with her "Indian" name, Klee Wyck. All of the non-Native artists are named, their works staggered on the wall between un-named installations of old "Indian" arts. Not until the 1950s do Aboriginal artists begin to gain individual, named, recognition.
1938
Native Tribes of British Columbia, (1938), written by Alice Ravenhill, is published to serve as an elementary school text. Ravenhill, who was born into a wealthy British family, emigrated to Canada in 1910. In 1926 she began to pursue an interest in Aboriginal people in BC. Her interest in social welfare and the promotion of Native arts led to her becoming known as a proponent of Native rights.
December 1939
Alice Ravenhill, in collaboration with Anthony Walsh, form the inaugural committee of The Society for the Furtherance of BC Indian Arts and Crafts (Dec. 1939 & January 1940); this organization later becomes The BC Indian Arts and Welfare Society (BCIAWS). The objectives of the Society are based on what are believed to be the "inherited artistic gifts and mechanical and manual dexterities latent in young Indians, shown in painting, carving, modeling, in drama, dancing, singing, and also in mechanical abilities of a high order" (Leeuw, 112). In 1943, Ravenhill becomes president of the society, and in 1944 she publishes A Cornerstone of Canadian Culture. Although her ideas about Aboriginal people are much the same as those in popular and academic writing of the time, she is convinced that art instruction will ensure the "regeneration of Native people, and their healthy assimilation into Canadian society". In order to assimilate economically, BCAIWS expresses interest in applying traditional Indian designs to commercially saleable items.
When Queen Elizabeth visits Canada, Alice Ravenhill presents her with a copy of her book, The Native Tribes of British Columbia. After receiving a letter of thanks from the Queen, Ravenhill responds by sending her a "typical example of tribal skill … a Mythical Raven drawn several years before by a Kwa-Kuitl [sic] Chief" but reproduced by [herself] in needlework" (Leeuw, 117, 18).
1938
The Knights of Columbus organization, with an established Indian Arts and Crafts committee, mount a display a the Hudson Bay Department Store in Vancouver to "assist in making a greater market for their wares, and help them to become more self-supporting." (Leeuw 248).
January 29, 1938
Established traditional Kwakwaka'wakw artist, Charlie James, dies on January 29, 1938 from the affects of a respiratory disease contracted in 1937. James was known for his revitalization of the Kwakwaka wakw (Kwakiutl) style. He was Mungo Martin's stepfather, and Ellen Neel's grandfather. He acted as mentor to many of his family members, including Martin and Neel, expanding their learning of the arts in general. "Charlie James is characterized as a prolific carver, a movie buff, and a frequent traveler between Alert Bay and Vancouver." (Palmer, 195, 205).
1942
"Young Indians' Art on Display" is exhibited at the Provincial Museum, then housed in the Parliament Building in Victoria, BC after being shown the week before at the Vancouver Art Gallery. "Creative work done by BC Indian children, depicting the ancient lore of their race… Schools represented in the fascinating display, which received acclaim at Vancouver Art Gallery last week, are Songhees Indian Day School …. Inkameep School, Oliver (Anthony Walsh, teacher). It is the first exhibit in BC of illustrations of entirely original paintings by Indian children of the Province. They chose their own subjects and had neither models nor copies. 'Bearing in mind that the schools represented come from widely separated areas in the Province, the diversity of subject selected, of colour, activity of imaginations, are interesting and illustrative of the forgotten fact that in olden days each tribe in BC had its own particular form of art,' says Miss Ravenhill." (The Victoria Daily Times 1942, 9).
May 15, 1941
The Vancouver Art Gallery hosts the exhibit BC Coast Indian Art between July 15 and August 21, 1941.
1942
Anthony Walsh resigns as teacher and principal of the Inkameep Day School and joins the Legion War Services. He is stationed at Port Alberni and Gordon Head where he works with soldiers returning from World War II. In Port Alberni he meets artist George Clutesi and helps mounts an exhibition of his paintings. Through his friendship with Walsh, Clutesi meets Ira Dilworth (CBC), Lawren Harris (Group of Seven) and Emily Carr.
June 4, 1944
In a 1944 newspaper interview with The Victoria Colonist, George Clutesi is referred to as a 'full blooded Indian artist' who states that he "tries to paint the spirit rather than make a pretty picture". He also is introduced as someone who "has awakened a wide interest" from Lawren Harris, "Vancouver critic and painter of note," and from Dr. Clifford Carl, of the Provincial Museum. In relation to the sources for his paintings, Clutesi refers to his father who was an "historian of our own legends," and to "Many of the older people who are "rich in memory" as those whose 'tales' he paints. He goes on to refer to his subject matter in terms of aboriginal ownership: "Many of the songs and dances are the property of families and so are my pictures in a way, for they tell their stories. Before an outsider can use any of these 'privileges,' he must get the consent of the owner. It is a copyright in the eyes of the Indians". He refer to himself as a 'common laborer' who drove piles until a few months previously when he injured his spine, but which gave him "more time to paint" ("Indian Artist Arouses Comment With Paintings" May 21, 1944).
April 6, 1945
In 1945, Clutesi writes to Rose Millman, owner of the Dominion Gallery in Montreal: "I am a full-blooded Indian. Paint past customs, dances & ritual ceremonies of my own people. My 24 paintings are now on show in Calgary" (Dominion Gallery papers, National Gallery of Canada Archives). In July 1945, twenty of these paintings were sent to the Art Gallery of Toronto for display. In the previous year Clutesi had shown his work in Victoria & Vancouver.
1947
Harry and Audrey Hawthorn begin their long association with the University of British Columbia (UBC). Harry Hawthorn was the first anthropologist appointed to the University faculty, and Audrey Hawthorn, a specialist in primitive art, acted as an Honourary Curator; she was later granted a regular appointment as curator in 1956. The Hawthorns worked to establish an anthropology program and to expand the UBC collection of ethnographic materials. Within a short time, they begin collecting additional Northwest Coast artifacts and also contemporary Northwest Coast Aboriginal Art for the University. In 1947 the Museum of Anthropology is officially established. In 1948 Harry Hawthorn is instrumental in acquiring seven paintings by George Clutesi for the UBC collection. In 1949 the Museum opens in the basement of UBC's main library. In 1951 Audrey Hawthorn publishes People of the Potlatch, the Art of the Kwakiutl Indians, a study of Indian Arts and Crafts commissioned by the Royal Commission on Arts, Letters and Sciences. MOA's collections remained in the library until 1976, when they were moved to its current location.
December 1947
The Vancouver Art Gallery exhibits a display of "Indian Children's Art" from the Alberni and Christie Residential Schools (December 1- 4, 1947). Judith Morgan, seventeen, shows her paintings in the VAG exhibit (The Province, Dec. 5, 10. Vancouver Art Gallery Bulletin Dec. 1947, Vol. 15, no. 2). By 1949 Judith Morgan will have exhibited her work in Victoria, Vancouver, in a solo show at the National Gallery, Ottawa and in the United States (The Province, July 20, 1949, 27).
August 21, 1948
University of British Columbia acquires seven "modern" paintings by George Clutesi. Harry Hawthorn says it is the first major sale of Clutesi's work and that "they are significant because they express in an art form foreign to his culture, the exact ideas and feelings of his people."
1950
Vancouver Art Gallery hosts a display of Indian art, including the work by the then 12 year old David Neel, the son of Ted and Ellen Neel.
August 1, 1950
"One of Vancouver's unique attractions is the Edward and Mary Lipsett Indian Museum at Hastings Park. Mary Lipsett has been made an honorary life member at Totem-Land. Because this remarkable exhibition was opened during the war, and also because it is located off the beaten trail, many citizens are not aware that Vancouver has the only strictly Indian Museum in Canada and one of the finest collections of its kind in the world. It is valued at $40,000…. Here art of Indians from the Atlantic to the Pacific, from the Eskimos in the north to the Pomas in the south may be seen and studied" ("Indian Treasures Almost Lost to BC." The Native Voice, Aug. 1950).
December 1951
Vancouver Art Gallery displays Crafts from BC Indian Hospitals from Dec. 18, 1951 through January 20, 1952. (The Gallery Bulletin, 19.4 December 1951, 2).
May 6, 1956
The Vancouver Art Gallery hosts its first major exhibition of Northwest Coast art, "People of the Potlatch," which opens on May 6, 1956 and is organized by the VAG in cooperation with UBC; Bill Reid narrates a documentary made of the Potlatch exhibit.
1958
The Vancouver Art Gallery mounts the exhibition, 100 Years Art of BC Art. Some older "Indian" objects are included, two with the artists' names, but subordinate to listings by cultural group.
Before Bill Reid leaves the CBC radio in 1958, he writes and narrates a television documentary which provides a record of salvaging the 'last' totem poles of the Queen Charlotte Islands.
1960
George Clutesi exhibits at the Victoria Art Gallery. The curator says of Clutesi's talk at the exhibit, "It was probably one of the most memorable the gallery has every heard. Clutesi has a poetic way of speaking; a great intensity, and a natural dignity of speech" (Baird 6).
1960
Clutesi Indian Arts Centre, located at Pandora and Broad Streets, in Victoria displays BC Native Arts. "The exhibition arranged by Clutesi noted native artist who studied under the famed Emily Carr includes masks by Mungo Martin, acknowledged as the greatest of living native carvers and Henry Hunt, as well as totem carvings by Jimmy John." (Native Voice, Sept., 1960, p.7). Note the exaggeration about Clutesi's professional relationship to Carr.
April 21, 1962
Artist Henry Speck's work is "discovered" and subsequently collected and promoted by Vancouver Art Dealer Gyula Mayer. Mayer organizes an exhibition in 1962 of "BC Indian Graphic Art" in her commercial gallery, Muse Antiques & Art Galleries at 583 Howe Street. The show which opened on April 21, 1962 is described in the Native Voice as "..the very first of it's kind." (April 1962, p.3)
1962
In 1962 carver Doug Cranmer, with A.J. Scow and Dick Bird, open "The Talking Stick," a retail gallery established for the purpose of marketing Northwest Coast Art. This gallery was one of the few places that First Nations art was being marketed by First Nations owners.
March 24, 1964
One of the earliest attempts to discuss seriously and to promote Kwakiutl art in print for commercial purposes was Henry Speck's sixteen page catalogue Kwakiutl Art (Indian Designs Ltd., 1963) published by New Design Gallery to accompany Speck's first exhibition of forty watercolors, from March 25 to April 4, 1964. The flyer for the event read as follows:
'You are invited to attend the WORLD PREMIERE MARCH 24, 5:30 TO 9 P.M. of a new and exciting discovery. It is with a sense of excitement that the New Design Gallery presents a collection of 40 original paintings by Ozistalis, A Chief of the Kwakiutl Nation of Indians. This one man show of Chief Speck, whose Indian name Ozistalis means "the Greatest", is the first public showing of his work. ILLUSTRATED CATALOGUE With foreword and explanatory notes by MRS. AUDREY HAWTHORN, Author of "People of the Potlatch" Curator, Museum of Anthropology.
Six of the paintings are acquired by the National Gallery in Ottawa. Audrey Hawthorn, of the UBC Museum of Anthropology writes the forward to the catalogue for Speck's show. He is described as an artist who "is bringing the sea and land creatures of Kwagiutl mythology to life in his tempera paintings. Chief Speck, like most Indians, considers it a duty to pass any form of artistic creativity along to the younger generation, and he leaves his painting materials where they're easily found by his 10 and 15 year old sons, who already show signs of becoming painters" (Imperial Oil Review, 1964:18). In 1967 the Glenbow Museum in Calgary purchases 245 of Speck's ink drawings.
1964
In 1964, the Canadian Government expresses greater interest in the promotion of Indian artists. At this time they are mandated to establish a cultural department within the Department of Indian Affairs. This Department gives limited support to Indian artists, writers, poets, film-makers in Canada. The mandate includes awarding grants in the amount of $324,00 a year. They bring in a curator to purchase Canadian Indian Art, which is how the Department of Indian Affairs collection was established.
1965
Influential books on Northwest Coast art are published and are being used by practicing Northwest Coast artists. Bill Holm's Northwest Coast Indian Art: An Analysis of Form Seattle: University of Washington Press is published in 1965. Erna Gunther's Art in the Life of the Northwest Coast Indian, Portland, Portland Art Museum is published in 1966. Wilson Duff, who served on the province's Indian Advisory Committee from 1963 to 1976, published The Indian History of British Columbia, vol 1 (1964) and Arts of the Raven: Masterworks by the Northwest Coast Indians in 1967, an exhibit catalogue with contributions by Bill Holm, Bill Reid and Wilson Duff.
July 1, 1967
The Vancouver Art Gallery opens the major Centennial exhibition, The Arts of the Raven: Masterworks of the Northwest Coast, with Doris Shadbolt as Acting Director. Work by Robert Davidson and Bill Reid are included in the exhibit which attracts media attention. It is referred to as the "largest and most comprehensive ever undertaken by the Gallery". A New York Times article appears with the headline; "Not Coptic, Not Melanesian, Not even African." In July, during the exhibition, local cultural historian Simon Baker performs readings for the "Arts of the Raven" story sessions. In July 1967 as part of the Centennial, Indian Culture is displayed in the Eaton's Department store downtown; it includes a demonstration by Bill Reid who carves a wood screen for visitors to the store.