Aboriginal Art in the Sixties: Fine and Popular
Migration, Mobility and the City
Vancouver developed in the heart of Musqueam traditional territory, which encompasses the entire lower mainland. In its midst, the city had local First Nations who, in the late 19th century, began to live on allocated Indian reserves. Other aboriginal groups and individuals whose history of seasonal mobility can be traced to traditional trade economies, and later to wage labour industries such as fishing, logging and long-shoring also came to the city. These people were part of a "return migration"; moving back and forth between reserves and work places.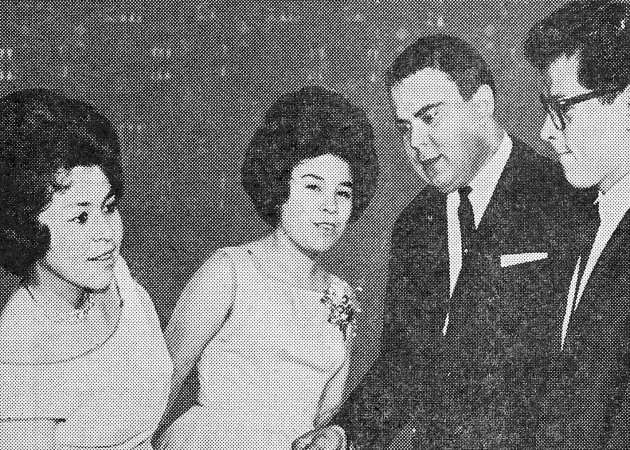 This was a pattern familiar to artists such as Mungo Martin and George Clutesi who had been labourers. It is important to see their respective moves to the city to develop an economically viable art practice in the context of men who worked these 'jobs' to support their families. In this sense, Ellen Neel and Henry Speck were also part of this mobile art practice that included a larger history of a labour-based return migration. In contrast, in the 1940s, younger people such as Francis Baptiste and Judith Morgan were part of a 'Indian art' practice that included regional, national and international institutions; their subsequent moves to attend post-secondary art schools in the United States were linked to significant individuals in museums and residential schools that supported contemporary "Indian art."
This need for institutional connections and support was also true for other young people in the late 50s and 60s such as Doug Cranmer who came to carve at the Museum of Anthropology with Bill Reid, and for a young Robert Davidson who came to attend high school. They (and others) were part of long standing return mobility between village and city, unlike Neel who moved permanently to Vancouver. She and other aboriginal artists, and the young couples who later came to take advantage of off-reserve housing in the late sixties, would depend on new kinds of social networks, assistance, and information to survive. Some brilliant young artists like Pat McGuire, who came from Haida-Gwaii got lost in the city. These artists paid the dues for those who came later and took on the mantle of professional artists making "high art."
August 1, 1950
Totem Land membership includes MLAs, the Premier, representatives of BC Tourism and others. Ellen Neel is named a member of the Executive Committee along with Mildred Valley Thornton, and Vancouver Municipal leaders. Prominent Native leaders invited to become Associate Members include traditional chiefs, chairmen, counselors. Among the leaders are Mrs. Kitty Green, President of the Native Sisterhood, Mr. George Clutesi, and Mathew J. Williams, Skidegate Mission ("Totem Land Officers Include Prominent British Columbians." The Native Voice, August 1950, 11).
Note M. J. Williams' interest in the sale of "Indian art" in an advertisement placed in the Native Voice newspaper, which is set in a small box alongside other ads: "Shell work, Haida Slate, Hand Carved TOTEM POLES Now in Stock. Get Yours While The (sic) last. Mail Orders: M. J. Williams & Son, Skidegate Mission, BC" (March 1947, 6).
(Berta and George) Brown's General Store in Skidegate sells "Haida Art" in the sixties, including the work of a young artist, Pat McGuire who moves to Vancouver in 1964. After his untimely death in 1971, the Browns give some of Pat's work to his brother Michael, which are photographed for this exhibit.
Minnie Croft, a Haida board member of the Coqualeetza Club, owns and manages a coffee shop in Haida Gwaii and arts and crafts shops in Vancouver.
1961
George Clutesi addresses the British Columbia Historical Association on North West Coast Indian Art. In his address he states, "They [the Natives] are the bearers of a rich cultural inheritance that must be repossessed by its rightful heirs before it is forgotten and relegated entirely to the musty vaults of museums, there to lie (perhaps majestically) as specimens of art crafts of a past and remote ethnic group."
Later that year Clutesi is awarded a Canada Council Grant of $2,500 to work on the revival of Northwest Coast Indian art. (Native Voice, 1961, Nov.-Dec. p.6). "Most encouraging was the award in December of a Canada Council grant for teaching and developing WestCoast Indian ceremonial dances. Clutesi intends to apply this in Alberni where he has land near the Alberni Canal and will build a house. He feels more at home among his Seshaht people than in Victoria, but he will return to the city every weekend to give classes on Indian folklore and art" (Baird 1962, 10).
1964
Francis Baptiste was interviewed by the CBC for the Indian History Film Project. In the interview, Francis recalls that after spending a year at art school in Santa Fe he "started going rodeoing, you know, these stampedes, and never painted until this last year when I started again. I think I'll go on. I'll keep painting all the time." (BC Archives, transcript of Tape 1101:1, pp 11-12).
1965
Robert Davidson moves to Vancouver to attend high school. Later he will attend the Vancouver School of Art (1967–70). In 1965 he will begin an apprenticeship with Bill Reid.
1966
By 1966 a number of young talented Aboriginal artists are emerging in the city. Haida artist Pat Dixon moves from Skidegate to Vancouver in 1966 where he established a working relationship with fellow Haida carver, Pat McGuire who had come to the city in 1964/65. Dixon credits the positive affects of Bill Holm's book Northwest Coast Indian Art on his understanding of flat design. That same year Roy Hanuse starts drawing and painting two dimensional designs. Later, the University of British Columbia purchases four paintings by Hanuse. He will go on to receives various commissions and interest form museums in Canada and the US, and other bright young artists, such as McGuire, will disappear from art historical view.
1967
A young Robert Davidson, who had begun carving at age thirteen in his village of Massett (Native Voice, April 1962, 1), later comes to Vancouver to attend high school, and in 1967 he attends the Vancouver School of Art (1967-1968). Here he develops his skills in painting, printmaking and carving in wood, silver and gold. Relatively few Northwest coast artists at this time undertake both painting and carving. In 1968, when he is twenty-two, he shares this expertise with other craftsmen at the Gitanmaax of Northwest Coast Indian Art in Ksan, near Hazelton, BC In 1969 he carves and erects a forty-two foot pole in Haida Gwai, the first new pole raised there in 90 years.
May 17, 1968
Aboriginal youth come into the urban area in ever increasing numbers. Many had been living away from family in Residential schools. They come for an education, training and employment. An art show is held at the Vancouver Indian Centre from May 17-19, 1968, organized by the Coqualeetza Council. Young artist Roy Hanuse wins first prize at the show and Robert Davidson also receives a prize (Native Voice, May/June 1968, 2).
1970
Young talented Haida artist, Pat McGuire dies in Vancouver in December 1970 of a heroin overdose. He is 27 years old.
January 29, 1970
Canadian artist and a member of the Group of Seven Lawren Harris dies at age 84 in Vancouver.
October 1970
George Clutesi speaks to UBC students in a summer session cross-cultural course designed to familiarize teachers with Indian culture. (UBC Reports).
December 29, 1970
Chief Dan George named best supporting actor by New York film critics for his role as Old Lodge Skins in Little Big Man.
1981
After October 1967, the Expo '67 site was renamed Man and His World and was open during the summer months from 1968 to 1981. During this time, most of the buildings slowly fell into disrepair and were dismantled. In 1970, Robert Davidson, sponsored by the MOA, demonstrated carving at the site, and later presented a ten foot totem pole to the city of Montreal.
1979
By the 1970s, the Vancouver Indian Centre Society (formerly Coqualeetza Fellowship Club) had outgrown its location on West Broadway and moved to 1855 Vine Street where it served the needs of the Native Peoples of the City of Vancouver, British Columbia and those from other parts of Canada until 1979.
1971
George Clutesi is awarded an honorary Doctorate of Law degree by the University of Victoria. He speaks to the graduating class at the commencement program. Clutesi received the Order of Canada and other awards and citations prior to his death in Victoria on February 27, 1988. A non-fiction book, Stand Tall, My Son (1990) is publisheded posthumously.
1976
From 1976 to 1982 Judith Morgan taught in the schools in the United States. Her name had been struck from the Kitwanga Band list. Feeling that she was no longer a Native, she took out US Citizenship, but was later reinstated on the Band list in 1985.